Years ago, a young man named Allan courted a young woman named Joan. He was in the US Army, a veteran of the Korean War. She was on stage on Broadway, and claimed a cameo role in a "Lone Ranger" episode. They married … then moved to Thailand for full time Faith work.
Decades later – during our border trip, as nearby hills burned to clear away unwanted brush — I watched as Allan shared the nuts and bolts of his own faith for the umpteenth time.
Note what Allan is using to talk about his faith: pictures.
His faith — the thing that matters more than anything in his life, the thing that he's staked his life on — is shared in simple, evocative images. After so many decades, he's learned that there are few tools more successful at TELLING HIS STORY across cultural and language gaps. Images seem to break down barriers … allowing one man to share his soul with another.
The man who's listening to Allan's image story in the near-dark is a quiet, thoughtful man named N who has often been on the run from the Burmese army. He is a leader in his village and his decision to join Allan in Faith would be complicated. Near midnight, N explains that he needs more time to reflect on Allan's story of — and invitation to — Faith. They shake hands … and go to bed.
Turns out, N touches souls with similarly evocative images in song. This one was recorded during a chapel service at a refugee camp inside Burma.
N's song is about how a village was burned in 2010, how the people were scattered, how they were reunited … and how their community church was rebuilt. Evocative stuff, full of sensory imagery … even though we don't understand the language. It's perhaps one of the most evocative recordings I've made on this journey.
–
These two men — Allan and N — came together for us during our border trip in the life of our trip leader, D.
Allan is D's father. N is D's comrade in a border region organization he leads to help displaced ethnic minorities under fire.
Like Allan and N … D knows the power of stories and images. He's constantly telling a story, pointing to this hill or that mountain where battles once raged.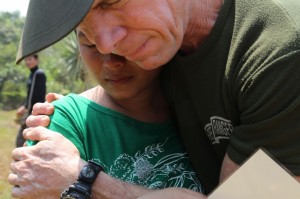 He puts his arm around people he reveres in stories. He shares the details of how he messed up seasons of his own life. He acts out scenes of heroism. He talks freely about Faith.
D's personal story is powerful on its own merits — the child of a missionary, a soldier in US Army Special Forces, a new recruit to the mission field, a failed first marriage, an ordained second marriage, bullets and bullets and bullets dodged, and the ongoing fruit of a sprawling organization in a conflict zone. There is only one answer to his question: "Easy way, or hard way?"
Still, it's D's stories that break down barriers. It's his stories that compel men to follow, in battle … in Faith. It's his stories that connect souls so powerfully.
It's his stories that burn inside the hills of men like fire.
– J Wildman
(For more pictures and the song, visit Hearing the Echoes).